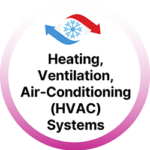 Hydronic Cooling/ Heating Systems Dedicated Out-Door Air System (DOAS)
Unitary Air-Conditioning Systems Central Air-Conditioning System.
Clean Rooms, Operation theaters, Evaporative Cooling.
District Cooling Systems, Data Centers(Mission Critical)
Ventilation for Parking and Basement, HVAC for Power Plants and Substation.
Ventilation of Commercial Kitchens Smoke and Evacuation Control
Industrial Ventilation & Exhaust Building Management Systems.